Editorialship of the Journal IONICS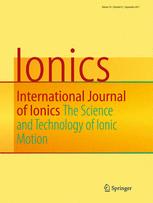 Ionics is a presently emerging key technology which will have a tremendous impact on many aspects of our life, environment and economy. The changes will be at least similar to electronics. The fields of application will be energy storage by new types of high-performance batteries, efficient energy conversion by fuel cells, generation for hydrogen fuel by electrolysis, chemical sensors, solar cells, electrochromic windows or displays and many others. Fast solid ionic conductors are presently providing new opportunities in view of several advantages, in addition to conventional liquid electrolytes.
The journal IONICS supports the development of ionics by fast publication of scientific and technological results at an affordable price for all libraries and even individuals. Ionics is an interdisciplinary field of physics, chemistry, materials science, engineering and other areas, e.g., biology. It has not yet established its own discipline and is rarely organized as topic of teaching. The journal will contribute to the visibility of ionics. A strong interaction between fundamental scientific understanding and technological aspects is necessary. Therefore, both topics will be covered by in the journal.
IONICS is produced by a non-profit organization of scientists (Institute for Ionics) in order to make it available to libraries and even individuals without financial restrictions.
Fast publication is achieved by the contribution of several experts in the field who act as referees. In general, the time from the submission till the acceptance/return or revision/rejection of a paper will be within 6 weeks. The publication will appear in the next available issue.
In order to achieve fast publication and a low price of the journal, authors are requested to prepare the manuscript on a word processor and turn in the file on a disk, if possible.
In addition to regular length papers, short communications ("Letters") are being published to allow rapid information of the scientific community about important findings, without need of extensive descriptions. Also, from time to time progress reports and reviews will be published. A news section will provide general information such as job openings and a meetings calendar.